Safety laser glasses are mandated for all medical personnel employed at facilities that work with high power Class 3B and Class 4 lasers in the healthcare industry, including dental, cosmetic, medical and surgical facilities.
Holmium laser safety glasses,
clear Yag laser glasses and goggles are designed to protect personnel from the dangerous laser radiation associated with Yag, CO2 and Holmium lasers.
Lasers can cause damage due to its thermal effects. Even mildly powered lasers can be harmful. The thermal effects enter the pupil and cause damage to the photoreceptor cells in the retina. Often, the damage is irreversible. Since lasers have a low divergence beam, its wavelength focuses on very small areas. The blink of an eye is not enough to prevent permanent ocular damage. In addition, the wavelength is invisible to the human eye. When selecting Holmium laser safety glasses or clear Yag laser glasses, it's a matter of selecting a pair with both sufficient eye protection and good visibility. Since laser light has a specific wavelength dependent on the laser medium, protective filters that match the wavelength are needed.
At Universal Medical, we outline frequency ranges and optical density so that you can choose the best laser safety glasses for your medical staff, physicians and patients. The optical density measures the level of absorption of a specific wavelength. The higher the optical density, the more laser radiation is blocked out. Our Holmium laser safety glasses and clear Yag laser glasses have filters that are fabricated of clear glass and allow for superb visible light transmission. As a result, the visibility of objects and patients is clear and crisp. With a clear viewing field, medical procedures can easily be done with accuracy. Our laser safety glasses also last longer because of its durable composition.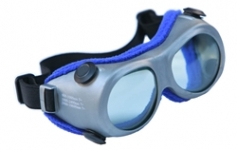 You'll also find that our Holmium laser glasses and clear Yag laser glasses are available in a wide variety of stylish frames that are very comfortable. Choose from aviator, wraparound and fit-over frames. For the best in laser safety glasses, make sure to check out the holmium clear laser glasses section on our website.