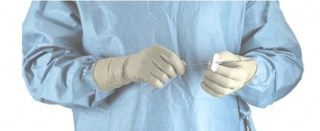 Looking to keep your hands protected from radiation during a cardiac catheterization? A pair of
radiation protection gloves
is a perfect tool for reducing radiation exposure to your hands during any fluoroscopic procedure.
Like many fluoroscopic procedures, during a cardiac catheterization a C-arm system is used. This system allows surgeons to see inside a patient's body through an x-ray and imaging source. It's important for surgeons to be able to clearly see arteries in cardiac catheterization procedures, since this procedure can help clear blocked arteries. The surgeon will focus their attention to the images on a monitor (produced by the C-arm) as they insert the proper tubing, dyes or instruments inside the patient. A cardiac catheterization can be as quick as a 45 minute procedure, is minimally invasive and has a lower recovery time.
C-arm systems emit radiation so it is considered best practice for surgeons to use radiation protection, particularly if they perform many of these procedures. Radiation protection gloves will give surgeons excellent dexterity and sensitivity for handling instruments while protecting their hands from both scatter and direct radiation.
Our sterile latex and lead free radiation resistant gloves are made of bismuth impregnated neoprene (thickness of only .008 inches) and offer the following levels of protection from direct radiation exposure: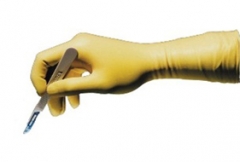 57% at 60 kVp
47% at 80 kVp
40% at 100 kVp
These radiation protection gloves are available in 6 sizes, each pair of gloves comes in a sterile pouch ready for use in any interventional radiology procedure. These lead free gloves are a one-time use only which can be disposed of in your regular trash removal. So don't worry about having to pay for disposal fees like many radiation protection apparel requirements!
Protection against radiation while allowing surgeon dexterity with instruments is crucial in today's interventional radiology procedures. Keep your surgeon's hands shielded with proper radiation protection gloves. Remember exposure to radiation is cumulative throughout one's life and the effects can be permanent. If you have any questions or comments regarding this post, please feel free to post below!