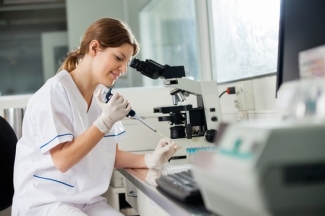 Pipettes are designed to efficiently deliver a small measured fixed volume of liquid into a receptacle. Proper handling and storage techniques are important to maintain accurate readings and maximize their longevity. Liquid handling equipment must be stored correctly to prevent inaccuracies and produce accurate outcomes.
Pipettes are precise laboratory instruments and need to be properly cared during and after each use. It is recommended that you visually inspect your pipette for damage on a daily basis to avoid undesirable outcomes. For example, damage to the nose cone (where the tip is fitted) could result in a poor seal to the pipette tip, which will reduce accuracy and it is unlikely to be fit for the job you need it for.
Pipette Storage Tips
Once you have finished pipetting you will want to ensure that you store your pipette vertically using a pipette holder, stand or workstation. Following these simple steps will prevent any liquids from seeping into the barrel of the pipette and causing damage by corroding the barrel or shaft. Never put your pipette on it's side with liquid in the tip, this can cause the same issue with corrosion and can be avoided by properly storing your pipette.
Although it is recommended that pipettes are serviced and calibrated at least once a year, taking a few minutes each day to make sure the pipettor is stored properly will save you the time and expense of having to send the pipettor off for maintenance more frequently. Remember that good routine maintenance and care helps prevent costly repairs.
Pipette Storage Options
There are a number of storage options for your pipettes depending on your laboratory and workstation configuration. Safely storing your pipettes when not in use is important, but you also want to make sure that you can access them quickly and easily as well. Listed below are four different style pipette storage options that can enhance your labs changing needs.
The Flip & Grip Pipette Holder is a unique pipette holder that gives you the option of using it on your bench top, or as a hanging under shelf holder to help maximize your working space available. This pipette holder can hold up to 12 single channel pipettes, or a combination of 3 single channel and 3 multichannel pipettes. The unique rubber grips prevent scratching and is compatible with most common pipette brands. The holder rotates for quick and easy pipette selection and storage.
The Clamp-Ette Pipette Holders makes pipette storage quick and easy. These pipette holders are available in single and triple formats and are compatible with most major pipette brands. The Clamp-Ette secures to tabletops, benches, and shelves with a simple twist of the fingertips, creating an instant pipette holding point within your laboratory. This unique autoclavable pipette holder is available in blue, red, and purple to match your lab and personality.
The Pipette Workstation is the perfect solution for organizing your pipettes and pipette tips in one convenient location. The acrylic rack is opaque on the sides but has clear front and bin lids for easy pipette tip identification. This workstation will hold up to four pipettes and included two dust-free storage bins for different sized tips. The oversized lip on the lid provides easy access even wearing gloves. Organize your pipette and tips in one convenient location in your workstation.
The pipette stands are available in several sizes, materials, and color options. These classic 3, 4, and 6-place pipette stands are designed to hold most major pipette brands. The 6-place pipette stand is available in clear acrylic, blue fluorescent acrylic, and dark blue ABS plastic for increased durability. The 3 and 4-place pipette stands come in clear acrylic for enhanced visibility and easy identification.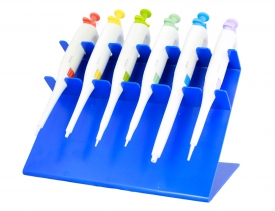 Protect Your Investment
There are a variety of pipette storage options available that can adapt to your labs changing needs. Your pipettes are precise liquid handling instruments and should be treated and stored with care to protect your investment and continue producing accurate results. Selecting the proper storage rack or stand will ensure that your pipettes are safe and organized, reducing clutter in your laboratory and improving your efficiency.