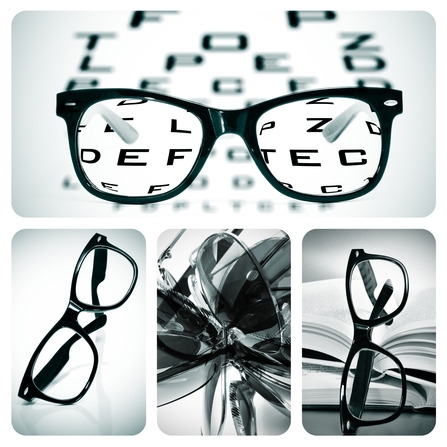 For those who wear corrective lenses and need to protect their eyes from radiation, we offer three different prescription lens types for our lead glasses. After reading this post you will understand the different types of prescription lens types that we offer, eyeglass prescription terminology, and what prescription information is needed to
properly place your order
.
Before placing your order, it is important for you to understand the differences between the various corrective lenses before making your decision. Lead glasses provide you with the necessary eye protection to help reduce your risk of developing cataracts from prolonged exposure to ionizing radiation. In the past, those who wore corrective lenses would often be required to wear bulky radiation safety goggles or fit over lead glasses. However, a number of the lead glasses that we now offer are available with various types of prescription lens.
Prescription lens types:
Single vision prescription lenses
Lined bifocal prescription lenses
Progressive bifocal lenses
Single Vision
Single vision prescription lenses have the same magnification throughout and correct for only one distance. These lenses are designed to correct conditions such as myopia (nearsightedness¹), hyperopia (farsightedness), and astigmatism². Our single vision prescription radiation safety lenses offer the industry standard 0.75mm lead equivalency and are manufactured using SCHOTT SF-6 HT radiation resistant glass.
How do I know if I have a single vision prescription?
To illustrate, an example of a single vision prescription is shown below. While reviewing the sample prescription, you may notice several abbreviations, listed below are common terms found on eyeglass prescriptions. If your prescription doesn't have any values or abbreviations in the ADD column, you have a single vision prescription.
Single Vision Prescription Lenses
Rx
SPHERICAL
CYLINDRICAL
AXIS
O.D.
-2.00
-0.50
40
O.S.
-1.75
Pupillary Distance
65
Prescription Abbreviations & Terminology 
OD – Oculus Dexter, from the Latin word dexter meaning "right", means the right eye.
OS – Oculus Sinister, sinister which is derived from the Latin word sinistra meaning "left hand", means the left eye.
SPH – Spherical, is the main strength of the lens prescription, and is written in 0.25 increments. It is also referred to as power and is abbreviated as PWR.
CYL – Cylinder, this will only appear on your prescription if you have an astigmatism, and is written in 0.25 increments. It is possible that this will only apply to one eye. If you don't have an astigmatism, your doctor may leave this field blank, or they may choose to put '00', 'DS', SPH', or 'Plano' in this field. If the field has one of those abbreviations you will know that you don't have an astigmatism correction in one or both eyes.
AX – Axis can be abbreviated as AX, or simply X. If the cylinder field is left blank or has any of the following abbreviations including '00', 'DS', SPH', or 'Plano', this field will be left blank or have an '0'.
PD – Pupillary distance or interpupillary distance (IPD) is the distance (industry standard is in millimeters) between your right pupil and left pupil. The PD is usually written in the lower row labeled P.D. on your prescription.
Single-Vision Pupillary Distance
Binocular P.D. – 65
Monocular P.D. – 30/30.5  (OS/OD)
Bifocal/Progressive Pupillary Distance Binocular
Near/Reading P.D. – 62
Distance P.D. – 65
The American Optometric Association states that Astigmatism is a vision condition that causes blurred vision due either to the irregular shape of the cornea, the clear front cover of the eye, or in other cases the curvature of the lens inside the eye. Astigmatism is a particularly common vision condition.
Lined Bifocal
Bifocal prescriptions are for patients who have difficulty seeing both far and near. They are commonly prescribed to individuals with presbyopia who also require a correction for myopia, hyperopia, and/or astigmatism. As their name suggests, lined bifocals offer distance correction on the upper portion of the lens, and near vision correction on the bottom portion of the lens. Lined bifocal lenses, provide two distinct optical powers with different focal lengths – one for distant vision and one for near vision. The near vision lens has a semicircle (bottom) that measures 28mm wide and has a flat-top (top). Traditional lined bifocal lenses are separated by a visible line.
Progressive Bifocal
Progressive bifocals, or simply progressive lenses, allow you to experience bifocal vision without the traditional bifocal lines. Progressive lenses provide you with a more natural way of seeing. Presbyopia³ is a common vision condition for those over the age of 40 where the eye has difficulty focusing on near-field objects. Individuals who have worn traditional bifocals in the past may have experienced "image jump", this occurs when there is an abrupt break from distance to near-field vision. Progressive bifocal lenses provide  you with optimum vision and a seamless progression of lens strength.
How do I know if I have a bifocal prescription?
If you notice that there are numbers in the ADD column of your prescription, you have a bifocal prescription.
Lined Bifocal/Progressive Bifocal Prescription Lenses
Rx
SPHERICAL
CYLINDRICAL
AXIS
ADD
O.D.
-2.00
-0.50
40
+1.75
O.S.
-1.75
+2.00 PAL
Pupillary Distance
65
ADD – ADD is the value commonly used for bifocal or progressive lenses. ADD indicates how much power is added to the distance prescription to create the reading-only prescription. ADD corrections will usually have the same value for both eyes. The abbreviation PAL may appear next to one of the numbers in the ADD field, or it may be written elsewhere on your prescription, this indicates that your doctor determined that you will need a different ADD correction for progressive lenses.
PAL– Progressive additive lens (ADD value specifically for progressive bifocal lenses).
Ordering Information
We hope that this post has provided you with helpful information that you will assist you during your research. To review, we covered the different types of prescription lead glasses that we offer, common terminology and abbreviations found on your prescription, and what prescription information we need to properly place your prescription lead glasses order. When ordering, please fax or email your prescription (Rx) including your pupillary distance (PD). For your convenience, prescription information can also be noted in the "Order Comments/Special Instructions" section under "Payment Information" while checking out.
Please note: Lens enhancements options are not available in combination with prescription lenses. 
Questions? Comments?
If you have any questions regarding the different types of prescription lead glasses that we offer, please feel free to contact us via live chat or simply leave a comment below.
Sources: