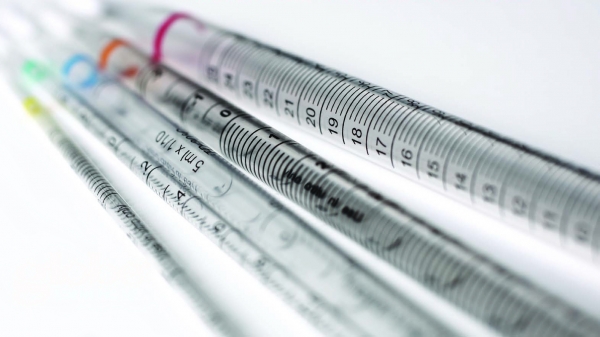 Serological pipettes
Serological pipettes or volumetric transfer pipettes are liquid handling devices used to transfer a desired volume of solution from one receptacle to another container. Globe Scientific is known as a producer of exceptional quality laboratory supplies and their unique UniPlast™ plastic serological pipettes are a perfect example.
1. One-Piece Construction
These pipettes are manufactured from a single piece of polystyrene plastic, which eliminates the weld point that are commonly found in other brands of pipettes. Some pipette manufacturers weld the pipette tip and mouth pieces to the main pipette body, these "weld points" can trap liquid and can cause inaccuracies. The UniPlast™ pipette is constructed of a smooth one-piece, FDA grade polystyrene plastic, which incorporates a seamless design that eliminates the potential for trapped liquids. This unique design provides faster fill and release rates, while also ensuring a complete flow out of the sample and also offers a higher degree of accuracy.
2. Aerosol Barrier Filter (Plug)
The UniPlast serological pipettes utilize an aerosol barrier plug that prevents both fluid and liquid vapors from contaminating the pipettor and sample. Unlike cotton plugs, the aerosol barrier filter, made from bonded polyolefin fiber provides better protection and reduces the chance of over pipetting and the potential contamination of the pipetting device.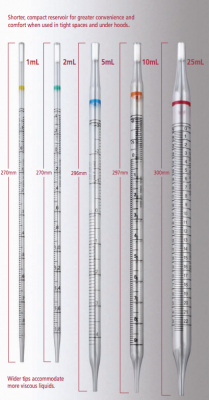 3. Ergonomic
The UniPlast Serological pipettes are shorter than most other serological pipette brands. The short, compact reservoir design of these pipettes makes them easier to handle and move throughout the laboratory. You will notice the improved comfort while working in tight spaces and under lab hoods for extended periods of time.
4. Convenient
The specially designed tip is able to accommodate more viscous liquids. The inside diameter of the serological pipette ranges from 1.56mm for the 1 mL up to 4.50mm for the 25 mL pipette. See the table below for more inside dimeters.
Serological Pipette Tip Diameters

5. Accurate
The UniPlast serological pipette has printed black graduations which prevent ambiguity while measuring the amount of liquid being aspirated or dispensed. This feature guarantees precise readings with less than 2% inaccuracy at full volume. Reverse graduations are available for all five volumes and negative graduations are included on all pipettes with the exception of the 25 mL volume.
6. Color Coded
The UniPlast serological pipette is color coded to meet ASTM E1380 standards.
ASTM E1380

Standard specification for color coding of laboratory pipets with multiple graduations, 0.1 mL and larger, nut excluding disposable prothrombin and disposable micropipets.
Fits All Major Pipettors
Designed to fit all major brands of pipettors these ergonomic serological pipettes offer a smooth one-piece construction for consistent results. These pipettes are manufactured under strict ISO 9001:2008 standards and are calibrated for accuracy. All UniPlast™ serological pipettes are non-pyrogenic, non-cytotoxic and non-hemolytic. Sterilized by gamma irradiation, these pipettes are RNase-free and DNase-free.
25 mL UniPlast Plastic Serological Pipette Demo Video
The pipettes are available in multiple sizes: 1ml, 2mL, 5mL, 10mL, and 25 mL to handle a wide-range of liquid handling applications.The pipettes come wrapped in peel packs, which are made from polyethylene plastic and medical paper. This design makes them easy to peel apart for quick removal. The UniPlast™ Serological Pipettes will be a welcomed addition to any laboratory looking for consistent and accurate results for transferring milliliter volumes of liquid.