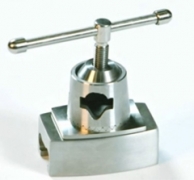 Surgical rail clamps are a must for the operating room table! These clamps allow medical professionals the ability to easily use OR table accessories by attaching the clamp to side railings. Surgical table rail clamps are available in a variety of styles and sizes to fit your operating room table, perfectly.
Before deciding which surgical rail clamp is best for you, we recommend determining the type of OR table you have, including the measurements of the side railings. Our medical side rail sockets are durable, easy to clean, easy to remove from side railings, have multifaceted designs allowing for horizontal and vertical mounting and increased clamping force to ensure stability.
Having a durable, high-quality surgical rail clamp can really make a difference in the OR. Why risk the possibility of the clamp breaking or falling off during a surgical procedure?
The Elite Clark Socket has a stainless steel construction to ensure longevity. This socket has the ability to securely hold both round bar accessories up to 11/16" diameter and flat bar accessories up to ¼" thick x 1" wide. This universal socket eliminates the need to inventory various clamps since it can mount on all standard North American surgical table side rails (1 ⅛" x ⅜"). With this socket there is no need to use rail notches, once the socket is mounted to the rail you simply adjust it to the desired angle!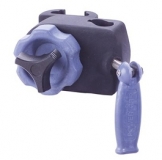 The Tri-Clamp Device is a unique clamp in that it allows three individual adjustments for lithotomy, abduction and rail securement. This latex-free clamp accepts ½" to ⅝" round and 1" x ¼" flat accessories. This particular clamp is available for either a European rail of 10mm x 25mm or a standard US rail of ⅜" x 1 ⅛".
If you're using surgical rail clamps in your OR already, what kind are you using? We would love to hear from you in our comment box below!