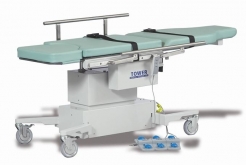 Trying to choose the right ultrasound table for your medical facility? 
Ultrasound exam tables
are offered in a large variety of designs and are equipped with many features. It's important to identify which features you're interested in. We've fragmented this post into a few key factors one should consider when selecting an ultrasound table.
1. Patient Weight Capacity
Always check the patient weight capacity of the ultrasound table. A majority of ultrasound tables have a rather large weight capacity, but it's always a good idea to take this into consideration.
2. Mobility
For many, mobility is a very important factor for ultrasound tables. A mobile ultrasound table can make transferring patients easy and quick. For example, the MD-250 Multi-Purpose Exam Table has 5" locking casters for mobility. Sometimes mobile ultrasound tables aren't necessary, so it really depends on your setting and application.
3. Table Height and Position Capability
When selecting an ultrasound exam table, take into consideration the measurements of the table itself. Also factor in the table height range to validate that it's a good fit for your setting, the height range can often vary. Position capability is a major factor since patient positioning is important. Keep in mind that many ultrasound tables can be positioned in a fowler position, Trendelenburg position and other auto level motorized adjustments.
4. Drop Window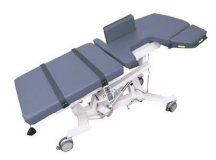 A drop window on an ultrasound table is a cutout that drops down and folds up for maximum access to patients. For example, the
Echo Pro Echocardiography Ultrasound Table
has a swing-out cardiac scanning cutout that can also serve as an armrest. This feature can be very beneficial for sonographers and will improve procedure ergonomics.
In any procedure or treatment, patient comfort and proper positioning is important. Our wide selection of high-quality ultrasound tables will help create a smooth and efficient medical environment for both staff and patients. As always, if you have any questions or comments please feel free to share your thoughts below.