What can hygiene stations do for your medical facility? Hygiene stations are an excellent solution for storing and organizing hygiene supplies in your medical setting. Practically every medical facility is equipped with an assortment of hygiene supplies, used daily by medical personnel and patients. Such hygiene supplies may include: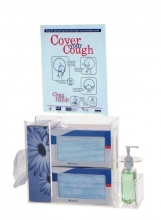 Face masks
Facial Tissues
Hand Sanitizer
Exam Gloves
Isolation Gowns
Bouffant Caps
Shoe Covers
Our respiratory hygiene stand and health station is the perfect solution for storing, organizing and keeping supplies together. This station is a free standing kiosk respiratory hygiene unit with locking capability. Constructed with durable acrylic, this unit holds a large box of tissues, two face masks and an 8 oz. bottle of hand sanitizer. A "Cover Your Cough" informational sign is also included, perfect for any exam room!
Not only will hygiene stations organize supplies, these stations will help increase the utilization of hygiene supplies among your medical staff. When a product is easily viewed and easily accessible, your medical staff will be more inclined to use these products. An increase in the use of hygiene supplies will most likely prevent the spread of infection.
Our hygiene and health stations will help your facility follow infection control standards. Keep in mind, hygiene and health stations can benefit your medical facility in more ways than one. If you have any questions or comments regarding this topic, please share your thoughts in the comment box below.
Be sure to check out our Respiratory Hygiene Station video!