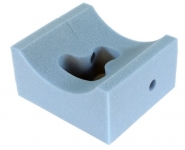 Why use
disposable foam positioners
to position your patients? Well, this post will take a look at the advantages disposable foam positioners can have when used in your medical facility.
Positioning patients can sometimes be difficult, depending on the application. Patients are positioned for surgical purposes, pressure relief, elevation reasons, and the list goes on. Positioners are ultimately used for keeping patients safe, including medical staff. By having your medical team utilize the proper patient positioners, it can make the process more efficient and comfortable for the patient.
Our line of disposable foam positioners includes a large variety that can be used for various medical settings. Our disposable foam selection consists of head positioners, arterial cannulation supports, armboard pads, elbow protectors, heel protectors, leg positioners, wedges, bolsters and rolls.
The Prone Concave Head Positioner was designed for use in lateral, supine or prone positioning. This disposable positioner assists in accurate neck and spinal alignment. The best part is that this positioner is disposable after use, ideal for infection control purposes!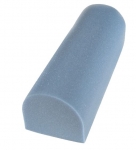 The Disposable Dome Shape Positioning Bolster was created to assist in prone or sidehead placement. This bolster will help in stabilizing the patient's neck for surgical, x-ray procedures, elevation, or other areas where pressure needs to be reduced.
Whether you're positioning patients for procedures or pressure relief and elevation, it's important to use proper positioners. Having positioners that are disposable after use will help with infection control. If you have any questions or comments about disposable foam positioners, make sure to comment in the box below!