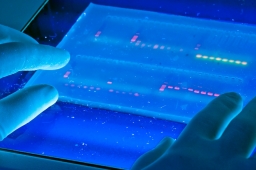 Agarose is a substance used in many laboratory applications but most commonly associated with gel electrophoresis.
First, let's start with stating that agarose powder forms a gel when mixed with water. This chemical is actually found naturally in agar, which is a gelatinous substance derived from red algae. When agarose is joined with other additives, the gel can be rolled into tiny beads.
Gel electrophoresis is technique of separating and analyzing macromolecules (DNA, RNA, proteins) and their fragments. Basically, gel electrophoresis is used for whenever DNA strands need to be sorted according to length. Before a gel electrophoresis procedure, a DNA sample would be treated with special enzymes. The agarose gel is used by dissolving the powder, which resists changes to pH that might result from electrochemical effects. The agarose filters the DNA strands. Adding an electrical current is how the DNA is pushed through the agarose, allowing the DNA strands to move.
Our Benchmark Agarose LE 500g – Organic Solvent Free is multi-purpose and has enhanced resolution and clarity. A few features of this agarose:
Reduced background
Low EEO / increased electrophoretic mobility
RNase, DNase, Protease-free

High hysteresis, improved thermal stability
Our Benchmark Agarose HR – Hi Resolution was designed to improve resolution of small DNA fragments and PCR products. A few features this agarose has:
High resolution of short PCR products and DNA fragments
Improved clarity enhancing visibility
High gel strength allows use in blotting procedures
Excellent gel strength, minimizing cracking or breaking during handling
Agarose plays a key role in the process of gel electrophoresis. If you have any questions or comments regarding this topic, please let us know in the comment box below!