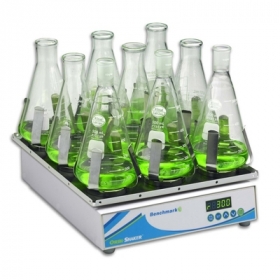 Mixing equipment is useful in a large variety of laboratory applications and chemistry experiments. Our mixing equipment consists of three main categories which include laboratory shakers, mixers and rockers.
Shakers are frequently used for sedimentation studies and some cell and tissue work. Shakers are designed to operate in a back and forth movement on a horizontal plane, often described as a shaking action. The Orbital Shaker with Rubber Flat Mat Platform is a powerful shaker that has the capability to mix a 14 lb. load capacity, up to speeds as high as 300 rpm. Now that's an impressive laboratory shaker! The standard platform features a non-slip, rubber coated surface making this shaker ideal for tissue culture flasks, petri dishes and staining trays. This unique shaker has been used in a variety of applications including bacterial suspension, tissue/cell culture, solubility studies, staining/destaining, gel washing and regular general mixing.
Laboratory mixers are commonly used for the purpose of mixing or agitating lab samples. The Benchmark Magnetic Stirrer is a common, space-efficient mixer used to spin liquid very quickly. A magnetic stirrer involves a rotating magnetic field resulting in liquid to spin rapidly causing a stirring action. This particular magnetic stirrer is ideal for crowded bench tops, due to it's compact size. Advanced microprocessor controls with easy turn knobs allow quick, precise adjustment and maintenance of speed and temperature. It also features a notably durable chemical resistant white ceramic work surface, perfect for many laboratory settings.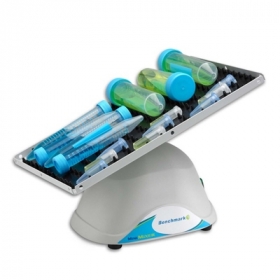 Laboratory rockers act in a see-saw dynamic at lower speeds compared to other types of mixing equipment. Ideal applications for rockers are staining, destaining, blotting and gentle mixing. The MiniMixer 3D Nutating Rocker Fixed Speed creates a nutating motion for thorough, uniform mixing. This rocker includes a dimpled mat, excellent for blood and centrifuge tubes.
Mixing equipment can play a key role in a laboratory setting. Are you currently using mixing equipment in your laboratory? Let us know in the comment box below!