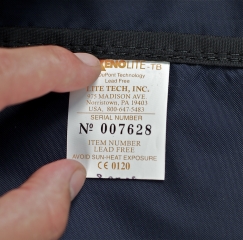 All x-ray aprons have lead in them.
Lead has been the industry standard for radiation protection, but other metals like tin and tungsten can attenuate radiation just as well, or better. These metals have been used to create radiation protection products without any use of lead even though the term lead equivalency, or LE, is used to gauge the amount of protection they provide. Not only is there other metals but PVCs as well. PVCs are mixed with the attenuating metals to give the apron flex and durability.
X-ray apron come in one style.
X-ray aprons come in a variety of styles, colors, and patterns. Depending on the application at hand you can find frontal, vest and skirt, or full wrap aprons.  A frontal apron might be something to consider if you find yourself performing quick procedures with no back exposure.
You can store an x-ray apron by folding it like a t-shirt.
Folding an x-ray apron can lead to internal cracking creating space for radiation to escape through. Make sure you always hang your x-ray protection on a hanger or lead apron rack. With proper care, an x-ray apron can last up to 10 years.
All x-rays require an apron for protection.
When x-ray machines were first invented patients required protection because there was limited control of the radiation beam and exposure time was long. Due to advances in radiation technology doctors are now able to restrict an x-ray beam to a target area and significantly limit the exposure time. Compared to a CT scan, a dental x-ray requires minimal radiation and protection is not always necessary. Dentists still equip their patients with an apron to give them a peace of mind.
The effectiveness of an x-ray apron is determined by thickness.
When determining the effectiveness of an x-ray apron, one must look at the attenuation rate of the material. Thickness can play a factor in attenuation, but different materials can absorb or deflect radiation in dissimilar ways. Remember all x-ray aprons are made up of a matrix of composites, so depending on the manufacturer, thickness can vary but attenuation may remain the same.
Want to learn more?
Download your free white paper to learn more about the main factors you should consider before purchasing an x-ray apron.