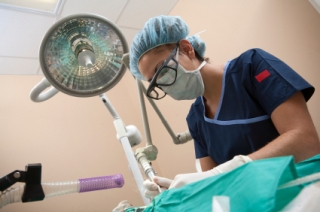 Are you working around a Dye Laser? This post will highlight why dye lasers are used along with some key safety measures to follow in your facility.
Dye Lasers, invented in the 1960's, use an organic dye (usually in a liquid state) as the lasing medium. Dye lasers are widely used in scientific, medical, industrial and military applications. The organic dye molecules are dissolved in a solvent, which is continuously circulated through the laser chamber. The lasing medium is then pumped by flash lamps or other lasers, emitting laser radiation.
Dye lasers are used in a plethora of medical procedures and applications. Some of these medical applications include dermatology, cosmetic, cardiology, laser treatment of vascular lesions, laser angioplasty, lithotripsy, thermolysis, urology, laser cancer phototherapy and diagnostics.
Laser safety measures should be established in all health care facilities where Class 3B and Class 4 lasers are used. According to ANSI (American National Standards Institute) and OSHA (Occupational Safety & Health Administration), dye laser glasses should be properly worn during dye laser procedures. It's important to match your laser glasses to your operating laser system, which will give you the highest protection. You should try to accommodate  individual preferences since frames are offered in a variety of stylish designs (goggles, wrap-around, aviator, fit-over, etc.)

To keep your laser safety glasses or goggles safe, it is recommended to store them in a protective unit. A unit similar to the Large Safety Glasses Dispenser, can hold up to 10 pairs of safety glasses and can be wall-mounted or set on a tabletop. All laser procedures should take place in a controlled area and it is important to properly identify these controlled areas with warning/safety signs. These signs should be easy-to-read and close to the entrance of the area to alert medical staff and patients.
The future of the dye laser will continue to be a prominent system used today. This technology has made significant advances in the medical industry since it was first invented. Remember, with all high powered laser systems you must consider all laser safety measures.