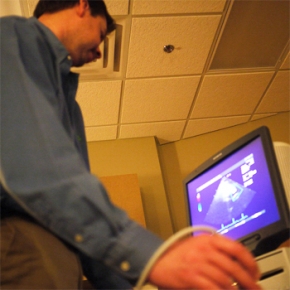 While most probably equate an ultrasound guided procedure with a common diagnostic exam done during pregnancy, hospitals, clinics and physicians are using ultrasound in many more ways. Ultrasound has proven to be an effective diagnostic tool for a variety of medical conditions, and it has increased in importance during the past fifty years.
Ultrasound, which is also commonly referred to as a sonogram, works by using sound waves at higher frequencies than the human ear can hear for the purpose of stimulating the tissues in the body. This stimulation gives the technician the ability to view and monitor images such as the flow of blood and the movement of the body's internal organs. These images are presented in real-time on a screen. In recent years, the images ultrasound has been able to present have increased in quality. Only twenty years ago, the images were one-dimensional, and difficult to decipher for the untrained eye. However, recent developments in technology have resulted in better-quality pictures, including 3-D images, giving physicians even better diagnostic ability.
Because ultrasound uses non-ionizing radiation, physicians consider it to be minimally-invasive and safe in most cases. In addition to being used during pregnancy to ensure a healthy baby and check for any other abnormalities, ultrasound has proven to be a valuable diagnostic tool in procedures like breast biopsies, liver biopsies and a host of others. It's also commonly used to view potentially cancerous tumors in the body. In the past, physicians would use surgically-invasive procedures to perform such biopsies. In order to avoid the risk that accompanies any type of surgery, physicians began utilizing ultrasound and found it to be very useful.
Ultrasound is also less expensive than performing a lengthy surgical procedure. Its portability is an added feature; one that has made it a standard piece of equipment utilized by emergency personnel all over the country. EMT response teams are able to make quick use of ultrasound when administering first aid to provide additional information to the hospital before the patient even arrives.
Ultrasound gel is a vital part of the ultrasound guided procedure. It is the conductive medium which is placed on the patient's skin or on the transducer right before the exam. Not only does ultrasound gel help guide the transducer during the procedure, it also improves the quality of the images the technician is able to see on the screen. Because these images play such a crucial role in helping physicians to make accurate diagnoses, ultrasound gel is necessary wherever ultrasound is performed.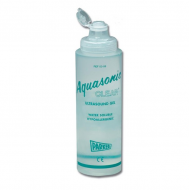 Ultrasound gels such as our Aquasonic Ultrasound Gel provide technicians and physicians with the best possible results during any ultrasound guided procedure. Aquasonic Ultrasound Gel is non-staining, hypoallergenic, and completely safe for all types of transducers. This particular gel is high-quality, with an acoustically-correct formula that works well with the large range of frequencies used in many different types of ultrasounds.
One of the most common complaints from patients who have an ultrasound is the coldness of the gel. For this reason, many physicians prefer the use of gel warmers such as our Thermasonic Gel Warmers. These warmer come in two different sizes, allowing technicians to keep more than one bottle of gel warm at a time.
The importance of ultrasound is increasing. With continuous advances in technology, there's no doubt there will be even more uses for it in the future. Having the proper equipment on hand is vital to ensure that every patient receives the most accurate diagnosis possible. If you have any questions or comments, please share your thoughts below!