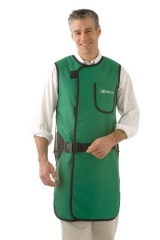 Lead free aprons are the environmentally friendly option for radiation protection. Lead free aprons are made with environmentally friendly materials and are easily disposable.
Lead has been the leading material utilized in radiation protection aprons for many decades. Many hospitals, medical centers and dentist offices continue to use this protective apron for many procedures and x-rays. The problem arises when it's time for facilities to discard these lead aprons. Many consider the process of disposing lead aprons complicated and time consuming.
It is illegal to discard lead aprons into landfills, so you can't just throw them in the trash. They are considered hazardous waste and must be thrown away following your local regulations. Discarding lead aprons can be costly. Most facilities have to find lead apron programs for proper removal.  However, the alternative lead free apron is disposable in your routine trash removal.
While lead continues to be used for radiation protection apparel, it's not the only element effective against harmful radiation. Our lead free aprons incorporate a mix of attenuating materials and maintain a standard level of 0.5 mm Pb protection.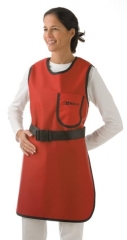 Our lead free aprons are environmentally friendly because the materials used for radiation protection are non-pollutant. In contrast, since lead is a heavy metal, improperly throwing away lead aprons can be very harmful to the environment.
Why not consider the environmentally friendly, easily disposable option to compliment your existing radiation protection apparel? We hope this post explains the benefits lead free aprons have on the environment.  If you have any questions or comments regarding this post, please let us know below!