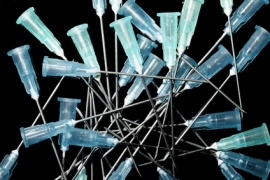 Sharps injuries are a very serious matter in healthcare facilities. According to the CDC, they estimate that about 385,000 sharps-related injuries occur yearly among medical workers in hospitals. Careful handling of contaminated sharps can reduce the risk of infection for hospital workers.
A sharps container is simply a container that is filled with used medical needles, scalpels or any small sharp medical instruments. According to OSHA, containers for contaminated sharps must be puncture-resistant. The sides and the bottom must be leakproof. They must be appropriately labeled or color-coded red to warn everyone that the contents are hazardous.
What can you do to prevent sharps injuries?
Utilize appropriate sharps containers in your work environment.
Dispose sharps with care (keep fingers away from opening of the container, do not overfill the sharps containers, follow safety guidelines when disposing sharps).
Recapping a used needle prior to placing into sharps containers.
Dispose sharps immediately after use, or as soon as possible.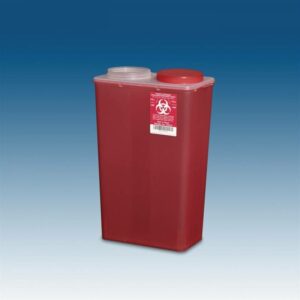 The 14 Qt Big Mouth Sharps Container features a large screw cap closure with locking device. This particular unit is puncture-resistant and can be mounted to the wall using an optional mounting bracket.
Sharps containers are a must-have for sharps disposal! If you have any questions or comments regarding sharps containers please let us know in the box below.