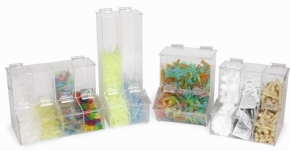 The key to setting up an efficient
benchtop workstation
in your laboratory is finding the right organizational equipment to use. We've made a list of our top five products used to keep lab workstation's organized and efficient.
1. Acrylic Workstation Dispensing Bins
These clear bins will allow you to see your inventory levels of pipette tips, tubes, fittings, finger cots, and other bulk items. These bins are available in 1, 2, 3 and 4-place bin options, all varying in sizes. Their flip top covers make dispensing easy and products dust-free.
2. Acrylic Benchtop Dispensing Bin Dual Compartment with Lid
This neon green, ergonomically designed dispensing bin has angled openings and an oversize lip.
3. Acrylic Benchtop Dispensing Bin Single Compartment with Lid
This neon blue, dispensing bin has a large, angled opening to allow for easy use for any laboratory supply item.
4. Reagent Solution Reservoir Basin Dispenser
This reservoir basin dispenser makes it easy for clean handling of your reservoir basins. Constructed of durable acrylic, this dispenser accommodates 100 and 55ml reservoirs.
5. Portable Tough – Tags Station Dispenser
The portable tough-tags station holds up to six standard size boxes of tough-tags, cryo-babies, and tough-spots. The station includes a cutting edge for easy dispensing and no-skid rubber feet.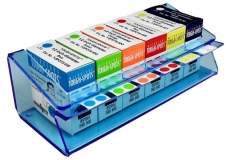 By using any of these benchtop workstation organizers, you can maintain organization at your laboratory workstation. Keeping an uncluttered workstation can also reduce the risk of laboratory accidents. Are you currently using any organizational equipment in your laboratory? If you have any questions or comments regarding our line of benchtop workstations, please let us know in the comment box below!