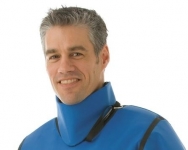 Thyroid shields and collars are designed to keep thyroid glands safe and protected from radiation exposure. Radiation protection is an important safety measure to understand when working in medical settings.
Radiation exposure to the thyroid area can occur in various medical applications. Thyroid shields are typically paired with lead aprons during fluoroscopic procedures. Common applications where thyroid shields are used include: x-ray imaging, CT scans, fluoroscopy and dental x-rays.
Keep in mind, not all applications that use radiation require thyroid shields, it depends on a few factors. When deciding whether or not it's necessary to wear a thyroid shield, keep ALARA principles in mind. ALARA (As-Low-As-Reasonably-Achievable) principles were established to keep medical personnel safe while working around radiation. ALARA principles address three major factors: time, distance and shielding. Take into consideration the amount of time your staff is working around the source of radiation, the distance between the worker and source of radiation and if the shielding equipment is sufficient. Medical professionals who work around radiation frequently are recommended to wear appropriate radiation protective gear.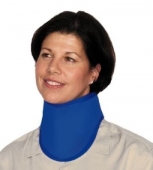 Thyroid shields are available in both lead and non-lead thyroid collars. The
New Style Lead Thyroid Collar
offers the standard protection of 0.5mm Pb Equivalency. This lead thyroid collar is latex free and fastens with a rear hook and loop closure. The
AttenuTech Lead Free Thyroid Shield
is lightweight, recyclable and safe for non-hazardous disposal. This thyroid collar is lead free and fastens with a velcro closure.
The thyroid gland is a sensitive organ and should be properly protected when working around high levels of radiation. It's important to minimize potential radiation exposure and determine the appropriate type of protection. If you have any questions or comments, please leave a comment or your questions in the box underneath.