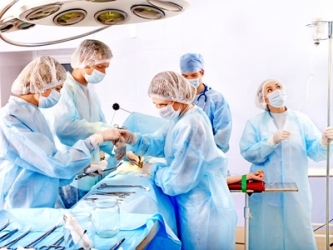 Did you know that surgical site infections are the the most common type of hospital-acquired infections?
Surgical site infections are at the top of the list when it comes to the most common hospital-acquired infections, followed by catheter-associated urinary tract, hospital-associated clostridium difficile, central-line-associated bloodstream, and ventilator-associated pneumonia according to Medscape.
A surgical site infection (SSI) is defined as an infection that occurs post surgery in the part of the body where surgery took place. A majority of surgical site infections can be prevented and most can be treated with antibiotics. A few common infection control recommendations for surgical sites include:
Prepare the patient's skin immediately before incision with an antiseptic (alcohol-based or aqueous) method.
Cover the patient's incision with appropriate dressing after the surgery.
Keep surgical site clean by disinfecting all surfaces before and after surgery.
Sterilize all surgical instruments.
Wear the appropriate surgical attire, this can include surgical masks, sterile gloves, scrubs, cover drapes, etc.
It's important to follow all infection control guidelines to reduce the risk of surgical site infections to your patients. By contracting a surgical site infections, patients are at risk for diseases or severe medical conditions, foreign objects, weak immune system, additional corrective surgery, etc. The signs and symptoms of a surgical site infection may include a wound that is painful and does not heal or get better, high or low body temperature, increased swelling around the wound, etc. What do you do in your medical facility to prevent surgical site infections? Let us know below!