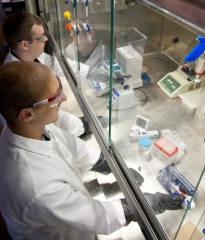 Pipettes are a common laboratory tool that can transport liquids in precise measurements. This liquid handling instrument is often a necessity in many laboratory settings.
Pipettes are generally used in molecular biology, chemistry and medical testing along with various laboratory applications. When the top button is pressed, a partial vacuum is created to allow the pipette to draw in the intended amount of liquid. Pipettes are designed in various styles and differ in levels of accuracy and precision. Our pipettes are available in the following styles:
Adjustable Volume
Fixed Volume
Electronic
8-Channel
12-Channel
Repeater
Positive Displacement
Disposable Polyethylene
Positive displacement pipettes are often used to prevent contamination and are used for small volume substances, like DNA samples. The BrandTech Transferpettor Positive Displacement Pipettes are best used with liquids when traditional air-displacement pipettes are ineffective. The piston of the transferpettor directly ejects the media from the tip, wiping the tip walls completely clean. Results from this particular pipette are highly accurate, especially with viscous, high-vapor-pressure, and other dubious liquids. The positive displacement pipettes are often used in applications for wastewater treatment plants, biochemical, genetics, molecular biology laboratories and more.

The
BrandTech Transferpette Electronic Single Channel Pipettes
are ideally used in standard pipetting, sample mixing, reverse pipetting, step dispensing and gel loading. This ergonomic pipette has five volume ranges for reliable dispensing of volumes 0.5uL to 5mL. The large, LED screen with operational symbols is very easy to use.
There are many types of pipettes, differing in application use, volume size, accuracy, etc. If you have any questions or comments regarding our pipettes, please leave a comment below!