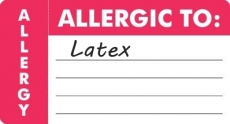 Keeping medical records and patient information organized is as important as ever. Today, the number of administrative and miscommunication errors in the medical field continues to grow. One way to prevent this type of error is to organize patient information with
medical labels
.
Imagine you have a patient who is highly allergic to latex. Suppose this latex allergy wasn't clearly labeled or marked on the patient's medical forms. If this patient has a procedure or exam and the doctor uses latex gloves for instance, the patient could risk a severe allergic reaction. This situation could have been different if perhaps a allergy label was marked on the patient's records, preventing this miscommunication.
Medical labels are excellent for keeping files and patient information organized and clearly sorted. A few common medical label categories include color code labels, month labels and year code labels. It's important to keep precise information when it comes to patient visits and future appointments.

Billing labels
are also very popular organizational labels used in medical offices. Our billing labels come in an assortment of wording, sizes and colors. For example, the "
Attention Office Staff: Co-Pay $__ Collect at time of visit
" label is 1 ⅞" wide x ¾" high. This brightly colored label will help flag important billing information and ensure organization for your medical staff.
Medical labels serve as an important tool for organization and will reduce administrative and miscommunication errors. These labels are easy-to-read and are available in bright colors. Is your medical facility using medical labels? Any questions or comments can be left in the comment box below!