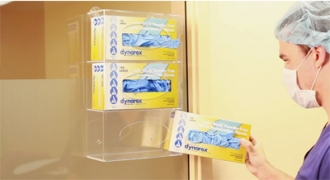 Exam gloves are a vital component of every exam room. Doctors, nurses and other medical personnel rely on exam gloves to keep themselves protected against contracting and spreading germs and infections. Because of the need for exam gloves, it's important to have a way to store them in exam rooms that will help to keep the room organized and yet keep the gloves readily accessible. The best way to do that is by using a
glove dispenser
that is made from high-quality materials, making it durable and able to last for many years.
Exam gloves, or medical gloves are one of the most common features of any doctor's office, exam room or hospital room. Using exam gloves is important to decrease the possibility of the spread of infection. Germs are prevalent everywhere, whether a medical professional is working with a patient's blood, other bodily fluids, or simply when the patient is sick. A glove dispenser keeps exam gloves readily accessible, in a place that makes them easy to use. Glove dispensers help to remind medical professionals to use exam gloves every time they come in contact with a patient. Most hospitals and clinics recommend or even require for exam gloves to be worn with every patient interaction, so glove dispensers make it easier for doctors, nurses and other professionals to observe these requirements.
Few things are as irritating to a physician as an exam room that is cluttered and unorganized. In order to provide patients with the proper medical care, it's imperative for every tool to be in its proper place. Not only does this make examinations and procedures easier and more efficient, but it also reflects well on the reputation of the facility. A glove dispenser in every room will ensure that gloves are kept in a safe and organized place, which aids in keeping the rest of the room always looking its best. Because of the fact that all exam rooms are different, the glove dispenser can be placed in a room in many ways. It can be placed on a counter top or mounted to the wall. If the room has glass surfaces, the glove dispenser can even be mounted to the glass using suction cups to keep it in place.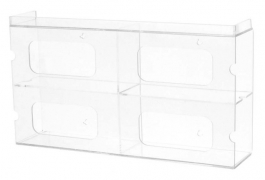 Many of our glove dispensers are made of acrylic and some are even clear, allowing the medical staff to clearly see what's inside. They also come in two, three or
four pocket glove dispensers
, so each office or hospital can choose the size that's right for their needs. In addition to our acrylic models, we also offer steel glove dispensers and wire dispensers. There are many choices to suit any type of room design or preferences.
In order to promote the frequent use of exam gloves, as well as keep exam rooms free from clutter, it's important to use glove dispensers in the rooms. Glove dispensers will help to keep medical personnel healthy by encouraging the frequent use of exam gloves. They will also provide a durable and organized solution for keeping exam rooms looking their best at all times. If you have any questions or comments regarding this post, please feel free to leave a comment below.