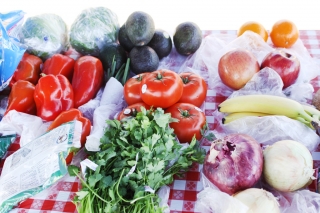 March 2014 is
National Nutrition Month
! This is a national nutrition campaign sponsored by the American Dietetic Association (ADA) with a theme of "Enjoy the Taste of Eating Right."
The Academy of Nutrition and Dietetics: "National Nutrition Month is a nutrition education and information campaign created annually in March by the Academy of Nutrition and Dietetics. The campaign focuses attention on the importance of making informed food choices and developing sound eating and physical activity habits." This campaign is a great reminder of how you can create tasty yet nutritious meals to follow the dietary guidelines. What steps are you taking to participate in National Nutrition Month?
Here are a few nutrition tips in honor of National Nutrition Month:
Eat more fruits and vegetables.
Incorporate your meals with salad as a main dish or side salad.
Eat a healthy breakfast.
Eat less salt.
Eat at least 3 meals per day and plan your meals ahead of time.
Watch portion sizes to manage your calorie intake.
Drink more water.
Have a question or comment about this blog post, leave a comment in the box below!