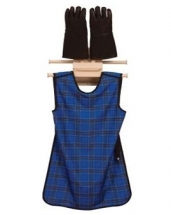 What is ALARA? ALARA is simply an acronym that stands for As Low As Reasonably Achievable. ALARA is a radiation safety principle designed to reduce radiation doses and methods among medical facilities that use radiation.
There are certain factors to consider when working around radiation. These factors include the amount of time spent around radiation exposure, the distance between your body and the radiation source and the proper shielding that is used such as a lead apron, thyroid collar or pair of lead gloves. It's crucial to wear the appropriate radiation protection attire when working around radiation. Not only is it important to wear this apparel, but it's also important to properly store your protective apparel when it's not in use.
Lead apron racks make it easy for medical facilities to keep their lead aprons, thyroid collars and lead gloves intact and properly stored. Lead aprons are often worn as the protective barrier between your body and radiation source. Improperly folding or creasing your lead apron can leave cracks. Radiation can pass through the slightest cracks on your lead apron, leaving you exposed to harmful radiation. By following ALARA principles, lead aprons that contain cracks are not to be used and should be disposed of.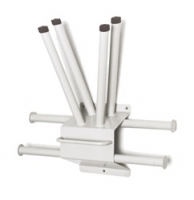 With our variety of lead apron racks to fit your medical setting, you will be able to store your radiation protection apparel correctly. The
multi-apron and glove rack
is ideal for storing two lead aprons, two thyroid collars and two pairs of lead gloves. This rack can be easily wall-mounted for maintaining organization throughout your storage area.
If you have any questions or comments regarding this post, please leave us a comment below. To find more information on your facility's radiation safety regulations, please contact your radiation safety officer.