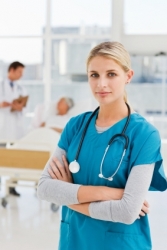 It has been said there is a noticeable increase in the number of bariatric patients in healthcare facilities today. Having the appropriate and high-quality bariatric equipment is essential for providing the best care to your bariatric patients.
Transferring bariatric patients can be difficult for medical staff. It's important to have the right tools for transferring patients from stretchers to tables or hospital beds. We recommend bariatric transfer boards to help secure the patient and make it easier for medical personnel. The bariatric transfer board – supine position is a semi-flexible moving platform with guided hand holes all the way around. This particular transfer board allows 2-6 people to move the patient depending on the patient's size.
Medical scales are also a regularly needed item when working with bariatric patients. The bariatric waist-high stand-on scale is specifically engineered for weighing obese and unsteady patients. This scale features a larger platform, stainless steel handrails with padded grips and has a weight capacity of 1000 lbs.
Step stools are also a popular item used for assisting patients and provide them a secure method of stepping up or down from a hospital bed.
Having medical equipment specifically designed with bariatric patients in mind will benefit both patients and medical staff in your medical facility. Is your health care facility utilizing bariatric equipment with your patients? Let us know in the comment box below!