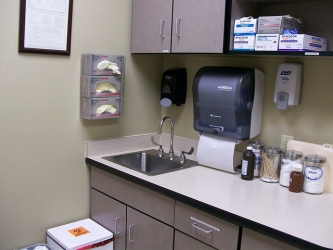 Keeping examination rooms organized is very important in any hospital, clinic, or medical facility. If you think about it, exam rooms typically store a variety of items, such as exam gloves, face masks, exam gowns, tissues, paper towel, hand sanitizer, etc. Best practices for organization is to place
dispensers and organizers
in all exam rooms, so these supplies can have a proper storage unit.
Physicians often see patients with a variety of symptoms and diseases throughout the course of a day. It is recommended to have tissues, gloves, hand sanitizer and face masks in exam rooms to ensure a clean and safe environment for both medical staff and patients.
By placing dispensers on tabletops or by mounting to the wall, it will keep items inside the dispensers organized and accessible. Items that are easily accessible such as gloves, face masks and paper towels, can reduce time and increase efficiency during a patient's visit. Dispensers that are placed with easy accessibility will generally be utilized more by medical staff. Many of these organizers are designed with a clear acrylic, which will make items inside more visible.
Most of our dispensers are constructed of durable acrylic, which is great for areas of your facility with heavy traffic. These products are not only designed for exam rooms, but anywhere in your facility that needs items organized and accessible. The children's hygiene center is a unit designed for a pediatric room. This colorful organizer holds one box of face masks, one box of tissues and a bottle of hand sanitizer. It also comes with a sign holder and informational sign that illustrates the importance of germ prevention.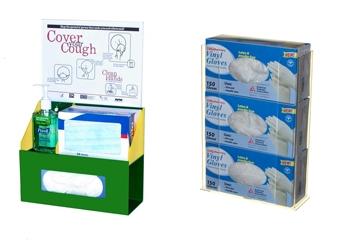 Many medical professionals will agree that by keeping an organized examination room you will ultimately increase organization and efficiency within your facility. If you have any questions or comments regarding this post, please let us know below.