Stuck on finding the right pipette tips for your pipette?
Pipette tips
are important for creating a reliable and accurate pipetting system.
This post will break down the different styles of pipette tips we offer. Within these selected styles, there are many different sizes to accommodate various liquid volumes.
Non-Sterile Pipette Tips
Our selection of non-sterile pipette tips were designed for use in a large range of pipetting applications, including the most sensitive assays. These pipette tips, like most of our BrandTech tips, are precision-molded from high purity, DiHEMDA- and oleamide-free, virgin polypropylene.
Sterile Pipette Tips
The Bio-Cert Sterile Pipette Tips were designed for the most sensitive applications. These tips are sterile and certified free of DNA, RNase, ATP and pyrogens to preserve sample integrity. Our sterile pipette tips are colorless and ideal for applications that require sterilization.
Filter Pipette Tips
Filter pipette tips are ideal for applications like PCR, microbiology, clinical diagnostics and radioisotope work. The filter tips are high quality filter tips to maximize tip performance by ensuring a great fit and seal. For reducing cross-contamination, the filter tips protect shafts from the risk of contamination and faulty measuring results. Filtered tips are designed to prevent aerosols from forming.
Ultra Low Retention Pipette Tips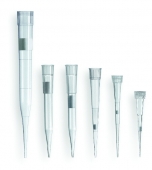 The specific product originally linked in this post has been discontinued by the manufacturer. For similar products, explore our other
low retention pipette tips
.
Our Ultra Low Retention Tips are unique in that they are an ultra-hydrophobic tip. The surfaces of these tips are created through a special, patented physicochemical process. The homogeneous, defect-free surface produced has extremely low surface tension. Due to the unique surface, sample loss will be significantly reduced and it will provide higher reproducibility when working with critical substances.
With many options it can often be difficult in finding the right tips for your pipette, we hope this post made it a little easier! If you have any questions or comments, please let us know.