Which x-ray apron style is right for you?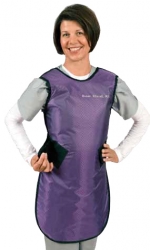 X-ray aprons are available in a wide variety of styles to meet the specific needs of medical professionals. Determining which lead x-ray apron style is right for you may seem overwhelming. The selection process can be simplified into several easy steps and in this post we will walk you through the necessary steps to ensure that you find the right x-ray apron as well as the appropriate level of radiation protection. The x-ray selection process can be broken down into three steps: (1) choosing your core material, (2) selecting the type of protection required, and (3) determining the best x-ray apron style for your needs.
Core Materials
In our previous post, How-To Determine Which X-Ray Apron Material Is Right For You, we discussed the three different types of core x-ray apron material options including traditional lead, lead composite, and non-lead. Each core material offers a distinct benefit, traditional lead aprons are the most economical, lead composite aprons provide an average weight savings of 25% compared to traditional lead aprons, and non-lead aprons are the lightest weight option available. Once you have determined the core material you can then choose the type of protection needed.
X-Ray Apron Coverage Protection Options
When selecting the type of radiation protection required for your specific application, it is important to understand the unique benefits each style offers. The three common x-ray apron styles are front protection, front/back protection, and quick-drop. Front protection x-ray aprons are ideal for those who only require front-protection during procedures. X-ray aprons that offer front and back protection are designed for those who circulate and will have their back to the radiation source.  The quick- drop x-ray apron has been designed for those who need to remove the x-ray apron during surgery without breaking the sterile field.
Understanding The Various Style Options
Now that we understand the coverage and protection offered by the three main x-ray apron styles, we can take a closer look into the unique benefits available for each apron style.
Frontal Protection
X-ray aprons offering frontal protection are available with several important features including closure options, back type and frontal aprons designed for specialty applications. Front protection x-ray aprons are available with three different closure types including buckle closure, strap closure (tie style), and velcro closure.
There are several factors you will want to consider when choosing the right x-ray apron back type including apron weight, the length of procedure, and types of procedures performed. There are a variety of x-ray apron back types to choose from including the standard plain back apron, flex back apron, back relief/support apron, and fast wrap aprons. There are several specialty options available including pregnancy aprons (1.00mm Pb equivalency over fetal area) and lap guards, lead aprons with a sewn in thyroid collar, and the quick ship lightweight lead flex guard apron.
Front and Back Protection
There are several options to choose from when looking for front and back protection including full wrap aprons and vest/skirt aprons.  Standard medical x-ray protection levels commonly available  for front/back protection aprons are offered in the following combinations:
Front Protection Pb Equivalent/Back Protection Pb Equivalent
0.50mm/0.25mm
0.35mm/0.25mm
0.25mm/0.25mm
Full Wrap Aprons
Full wrap aprons are available in several styles including full overwrap, quick release, and tabard styles while providing maximum protection. Full overwrap aprons provide lumbar support which reduces fatigue and upper back stress during long procedures. Vest/skirt aprons create maximum weight distribution between the shoulders and hips which eliminates stress on the upper and lower back.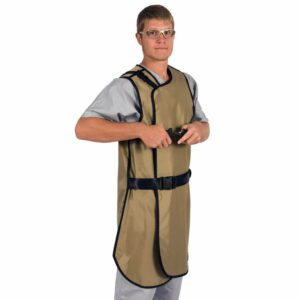 Full Overwrap Protection 
The full overwrap aprons are secured via hook-and-loop straps and provides maximum radiation protection which reduces back fatigue during long procedures.
Wrap-around, quick release aprons provide excellent front, rear, and side protection while allowing for easy on/off during procedures.
Flexiback Frontal Apron with Velcro Closure
The flexiback apron provides front protection with a flexible back for additional comfort and hook-and-loop closure on the sides.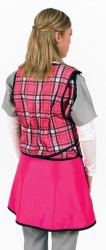 Vest/Skirt Aprons
Vest/skirt aprons provide greater flexibility to the wearer with regard to sitting, bending, or stooping. The skirt is designed for complete overlap to provide maximum protection. Many of the vest/skirt sizes can be mixed to provide maximum comfort and fit.
The quick-drop apron style is designed to be worn over the scrub suit and under the O.R. gown for quick removal without breaking the sterile field after x-ray procedures are completed. The quick-drop style aprons do not have arm holes and require assistance from a second party when putting it on or removing the apron. Quick-drop aprons are available with velcro criss-cross back flaps that assure easy removal. The Plain Back – Quick Drop Apron allows for freedom of movement, maximum flexibility, and optimal comfort.
Questions? 
Now that we have reviewed the various benefits of the core materials used in x-ray aprons, the different types of protection, and highlighted some of the main benefits of the different types of apron styles, you should be able to choose the right x-ray apron for your specific needs. If you have any additional questions, feel free to leave a comment below or contact us via live chat on our e-commerce site during normal business hours (M-F 9-5 EST).