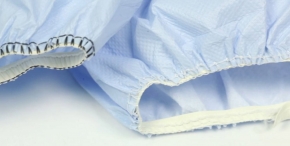 Today's featured product is our
AquaTrak Sonic Welded Seamless Sole Ankle Boot Covers
! These boot covers will keep medical personnel protected and stable in both wet and dry conditions. With the sonic welded seamless soles, these boot covers offer complete protection – even in standing water! This versatile item provides your staff with stable protection for the entire shoe and high ankle area.
Features:
Material is fluid impervious
Anti-skid properties provide slip and fall protection – with no additional coatings.
Tunneled elastic top
High breathability and low particulate count fabric wears comfortably and completely contains contamination
Ankle ties provide snug fit
Thread colors around the top opening allows for size identification
Available in universal and extra-large sizing
If you have any questions or comments regarding our featured product, please leave a comment below!