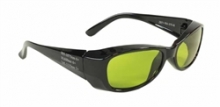 Are your medical personnel and patients being exposed to diode, UV excimer and inGaAs laser systems? The
diode extended laser safety glasses
will protect your eyes from harmful radiation caused by these lasers.
When laser safety glasses protect against multiple laser systems they're called combination filters (sometimes referred to as a broadband or multi-wavelength combination filter). When your medical personnel are working with multiple laser systems during a procedure or treatment, combination filters are really the best approach. While wearing combination filters, there is less room for error for wearing the wrong glasses with the wrong laser. The adverse side of combination filters is that whenever a multi-wavelength glass or polycarbonate is created, the material will be slightly darker in color to incorporate the necessary protection.
Safety should be the first priority around all medical laser systems. Your facility can eliminate room for error by purchasing laser glasses that correlate with your laser system(s). The diode extended laser safety glasses and goggles will protect your eyes at the following wavelength ranges when working with your diode, UV excimer and in GaAs laser systems:
| Wavelength | Optical Density | Color | Visible Light Transmission |
| --- | --- | --- | --- |
| 190-420nm | 6+ | Green | 64% |
| 660-780nm | 2+ | Green | 64% |
| 745-1115nm | 3+ | Green | 64% |
| 800-904nm | 5+ | Green | 64% |
| 905-1075nm | 6+ | Green | 64% |
| 10,600nm | 6+ | Green | 64% |
Since these laser glasses are protecting against multiple lasers at various wavelength ranges, the color of the lenses will be slightly darker. The lenses are a green color and transmit 64% visible light. Both medical personnel and patients should be required to wear these laser glasses. Medical laser systems are typically medium to high-powered systems, which if exposed to can have damaging effects on your eyes.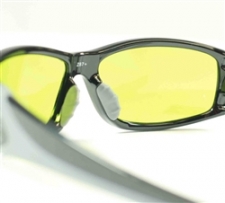 Medical laser systems will to continue to be an essential piece of equipment in many medical facilities. It's important to ensure laser eye protection among both staff and patients when working around any laser system.
If you have any questions or comments regarding this topic, please feel free to post below!