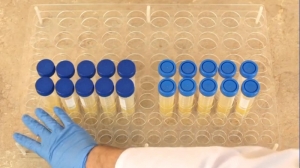 Vial racks come in all different shapes, colors and sizes. To best suit your laboratory needs, it's important to consider the various features vial racks have. Vial racks in the laboratory serve to adequately store and transport test tubes, safely.
Some vial racks are made of durable acrylic and come in a clear color. This acrylic material is solid and will allow for multiple uses within a laboratory. Clear acrylic vial racks allow for excellent visibility of vial contents compared to those with solid colors. Being able to see the contents within the test tubes can be important, as it may save time and help keep laboratory professionals efficient. Vial racks are also a great way to keep organization among many test tubes. Staying organized certainly goes a long way in the medical field and will result in less confusion and fewer accidents.
Our Large Vial Rack can hold 25mm, 30mm and 40mm diameter vials. This unit is for high capacity test tube storage and transporting. This rack is clear to allow laboratory professionals easy viewing of vial contents or test tube labels. The Small Rack for 13mm Tubes is also a clear acrylic vial rack, but smaller in size. This unit is ideal for those working with a small amount of 13mm test tubes and are looking for a rack that doesn't take up much counter space. Both vial racks can be assembled and disassembled for easy cleaning by simply unscrewing the side post by hand.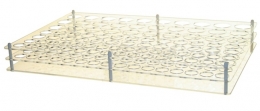 Durable vial racks are an essential element when transporting test tubes from one station to the next. In many labs, it is common for test tubes to be moved around and these durable racks will assist in a safe transport.
Are you using vial racks within your laboratory? Let us know by posting a comment below!