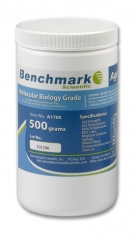 From diagnosing diseases to separating molecules, the chemical agarose is used in a variety of medical and science applications. Believe it or not,
agarose
is actually derived from agar, which is extracted from the cell walls of red algae. Agar also has a presence in many laboratories. It is often found in environmental science and pharmaceutical development where it is used for growing bacteria, viruses, plants and other types of cells. So why do these laboratories use agar? This unique substance has a low melting point and has the ability to prevent cells from eroding the agar.
How does agar become agarose?
Agar is purified and broken down into the chemical, agarose. The chemical comes in several different forms. Agarose starts in a powder form and can be turned into a gel when the powder is mixed with water. The agarose gel has a consistency that is similar to rubber resins. When the agarose gel is combined with certain additives, the gel can also be rolled into small beads.
The many forms of agarose provide ample opportunities for the chemical to be used in several medical procedures and laboratory tests. Some of the procedures and tests include the following:
Monitor the progression of a disease
Collect information about a sample that has unknown properties
Separate DNA, RNA and protein molecules
Analyze molecular size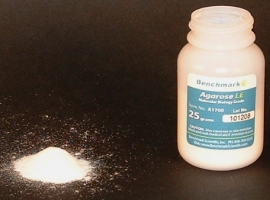 Because agarose can be used in a multitude of ways, it is not uncommon to come across this chemical in many fields of science. It is frequently found in microbiology, forensics, genetics, biochemistry and molecular biology. The use of agarose is more common than you may think. Many middle schools, high schools and colleges teach laboratory classes that use various forms of agarose.
What makes agarose so special?
Like agar, agarose has several rare characteristics. The chemical has the ability to take on several different forms including a powder, gel and beads. It has large pores which allows for the easy passage and separation of molecules, including DNA and proteins. The chemical also carries a neutral charge, meaning that it is not positively or negatively charged. With the simple structure of agarose and its many uses, it easy to see why this chemical is used across so many professions.