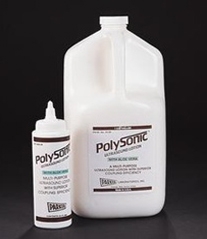 Therapeutic ultrasound treatments generally refer to any type of therapeutic treatment that uses ultrasounds. A therapeutic ultrasound is a technique that consists of stimulating tissue underneath the skin's surface through sound waves. These ultrasound treatments can include pain management, physical therapy and a variety of other treatments used in rehabilitation centers.
Similar to how ultrasound gel in diagnostic imaging is an essential product, ultrasound lotion for therapeutic ultrasound treatments is just as essential. Polysonic Ultrasound Lotion is available in 1 gallon jugs, dispensers and pump sizes to accommodate your treatment setting. This multi-purpose ultrasound lotion has a rich, moisturizing formula that is recommended for medical ultrasound procedures where lotion is preferred. Compared to ultrasound gel, the ultrasound lotion is often preferred by medical staff and patients in therapeutic ultrasound treatments. This ultrasound lotion is easily absorbed by the skin during massage, manual application and other physical therapy modalities during therapeutic treatments.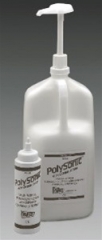 At the beginning of a therapeutic ultrasound treatment, ultrasound lotion is applied to the area of the patient's body that is being treated. The probe from the ultrasound machine will then circulate the ultrasound lotion against the affected area of the patient. Depending on the type of treatment, generally the ultrasound stimulates a patient's tissue beneath the surface of skin using high frequency sound waves. Therapeutic ultrasounds not only have the possibility to create heating effects, but its also shown to increase tissue relaxation, increase in blood flow to reduce swelling and inflammation and breakdown of scar tissue.
Therapeutic ultrasound treatments can treat a large variety of pain management therapies including muscle strain, muscle tension, chronic pain, and injuries toward tendon, muscle and ligaments. It is important to use the appropriate ultrasound lotion to assist in these types of treatments. If you have any questions or comments regarding this post, please leave your thoughts below!