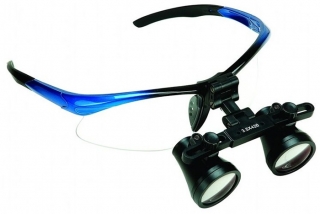 Many dental loupes sales reps would have you think selecting the right pair of loupes for you would be a monumental challenge. Well it is time to demystify the loupe selection process, since it is a relatively easy concept to understand. There are only a few factors that need to be considered when deciding on which dental loupes is right for you. We will show you just how easy these concepts are and will hopefully reduce an anxiety that you have about selecting the correct pair.
Working Distance
The first thing to determine is your correct working distance.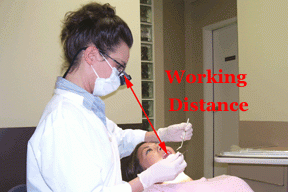 Selecting the correct working distance means you will be able to maintain an ergonomic while you are performing any work. To determine this distance sit in an ergonomic position, as if you were working on a patient and take a tape measure and measure the distance between the bridge of your nose and the area of the patient you would be working on. This image to the left depicts this measurement well.
Depth Of Field
Once you have the working distance you need to understand what depth of field is. Loupes are made to stay in focus at specific working distances. However, this distance is actually a range. So if a loupes has a working distance of 18 inches and has a depth of field of 5.5 inches it means the loupe will remain in focus from a distance of 15.25 inches to 20.75 inches, or 2.75 inches on either side of the working distance.
Field Of View
The concept of field of view often seems to be the most confusing aspect of the dental loupe selection process. I think the best way to explain this is to give an example that doesn't involve loupes at all. Look straight ahead. Everything you see is your eye's field of view. Now put your hands around the side of your eyes to reduce your peripheral view. By doing this your field of view was just reduced. Dental loupes work in exactly the same manner. The field of view is everything that is able to be seen at one time when looking through the lenses of the loupes.
There are several different factors that can affect the field of view, and this is the only semi-complicated of the process. However, there is no need to worry the factors are straight forward and easily explained.
Magnification – The higher the magnification the smaller the field of view will be.
Distance from the lens – The closer your eye is to the lens the larger the field of view will be
Magnification
Magnification is the last choice that you have in the dental loupe selection process. You need to determine on your own what magnification you feel most comfortable with and allows you to work effectively. For dentistry the most common magnifications are 2.5x – 3.5x. However, that is not to say some in the dentistry field do not use higher magnifications. A common approach to selecting loupes if you have never used them before is to purchase a lower magnification of 2.5x and once you feel comfortable with them purchase a pair of a higher magnification.
We hope this clears up any questions that you have concerning your dental loupes selection.
Still have questions?  Comment below and we'll answer them for you.