It goes without saying that microscopes are relied on and used on a regular basis by laboratories, medical facilities and schools. Although microscopes are used routinely by many different types of individuals, the process of selecting a microscope can be confusing. We have dedicated this post to explaining the different types of microscopes as well as their uses.
Stereo Microscopes vs. Compound Microscopes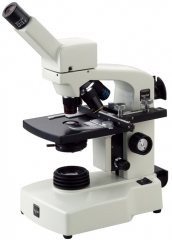 Compound microscopes are perfect for viewing small specimens because of the high powers of magnification they offer. Some of these specimens include blood samples, bacteria and water organisms. Compound microscopes are capable of magnifying specimens up to 1,000 times. They usually come with three to five lenses of varying powers of magnification. The range of powers of magnification are usually from 4x to 100x. The eyepiece of the compound microscope also adds an additional magnification of 10x.
On the other hand, stereo microscopes are often used for observing specimens that require lower powers of magnification. The types of samples observed with a stereo microscope include insects, rocks and leaves. This type of microscope has a magnification range of 6.5x to 45x, which is much lower than the compound microscope. Most stereo microscopes can also be considered binocular microscopes because they often come equipped with two eye pieces.
Monocular, Binocular or Trinocular?
It is also important to think about if you need a microscope with one, two or three eye pieces. Monocular microscopes, microscopes that are equipped with one eye piece, can magnify samples up to 1,000 times. If you need a microscope that magnifies at higher levels, a binocular microscope is right for you. Monocular microscopes are often used in classrooms and laboratories for observing slide samples. Stereo microscopes are available as monocular microscopes, but compound microscopes are only available in binocular and trinocular models.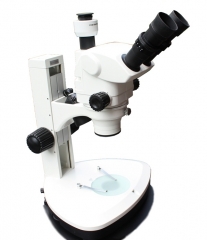 Binocular microscopes have two eye pieces, which can make it easier for the viewer to observe slide samples. Many users also find binocular microscopes to be more comfortable to use instead of the monocular microscopes. With the higher magnification range and the mechanical stage, binocular microscopes can be used for a variety of applications.
Trinocular microscopes come with a third eye piece. The third eye piece of this type of microscope allows you to mount a camera onto the eye piece. Cameras can be mounted onto binocular microscopes, but it disrupts the operation of the microscope. Mounting a camera to the trinocular microscope can allow the views of the specimen can be presented or shared with others.
We hope this post helps clear up some of the confusions with selecting the right microscope. Let us know what you think!