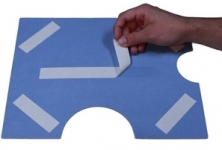 How should your medical staff protect themselves against scatter radiation? To start, scatter radiation is a form of secondary radiation that takes place when direct radiation occurs forcing some x-ray particles to scatter.
There are multiple ways to protect against scatter radiation. By wearing the appropriate radiation protective apparel such as lead aprons, lead gloves and lead glasses will ensure radiation protection. Scatter drapes are radiation absorbing shields that are placed on the patient during interventional radiology procedures, reducing the level of scattered radiation exposure to medical staff.
The Attenurad Scatter Drape is designed as a multi-purpose radiation protection shield used in many different interventional radiology procedures. In many types of interventional radiology procedures the main concept is to be minimally invasive using image-guided techniques to diagnose and treat diseases. Scatter drapes are often used in these procedures to protect against scatter radiation.
The sterile multipurpose scatter radiation protection drape has two unique half moon cutouts to allow the drape to be placed over the area of focus. This coverage will provide protection from scatter radiation without meddling with procedure results. The scatter drape is placed on the patient using the drape's five medical grade adhesive strips. The drape is flexible and will easily mold to the patient's body when placed for a procedure.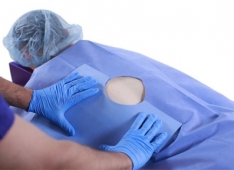 You're probably thinking, what is the level of protection this scatter drape offers? Well, this drape was specifically designed for levels of scatter radiation however, testing has proved that this drape will also provide protection of 0.22mm lead equivalency from a direct beam at 80 kVp. Another added feature is that the scatter drape is lead free and is made up of materials proven not harmful towards the environment. This also makes the drape disposable without special handling requirements.
If you're working in interventional radiology procedures, we recommend the attenurad scatter drape to protect medical staff from scatter radiation. Any questions or thoughts, please let us know below!