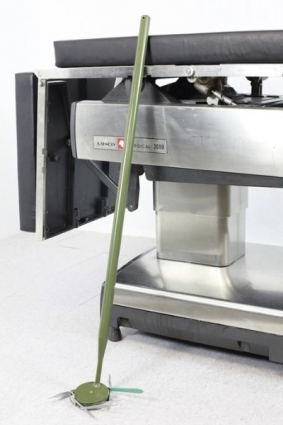 Have you ever had that slight feeling of anxiety at the end of an operation when you couldn't find that last suture needle or scalpel? Or when your inventory count time took far too long? Maybe you haven't experienced this yet, but there is a good possibility you will in the future if you work in an operating room. Fortunately, we've found the solution for finding lost surgical items, the
operating room attractor magnet
.
This product uses its magnetic head piece to attract metal surgical tools from surfaces. By storing an attractor magnet in all your operating rooms, your medical staff will have a way of retrieving lost surgical instruments from the floor. The surgical team can remain upright as they use this 40-inch attractor, preventing staff back strains and injuries.
Operating room medical personnel are usually required to perform an inventory count of surgical tools before and after all surgeries. If the post-surgery count is off, it is common that lost tools will be found on the floor of the operating room (particularly if they are small in size). A surgeon is estimated to use between 250-300 surgical tools throughout a surgery, so you can understand how easy it is to misplace these items. Many of these surgical tools, such as sutures, can be small and hard to find if they happen to fall to the floor. The attractor magnet will significantly reduce the time it takes to locate missing tools, ultimately reducing your inventory count time. Its high lifting capacity of ferrous metal will quickly retrieve items from the floor or underneath objects.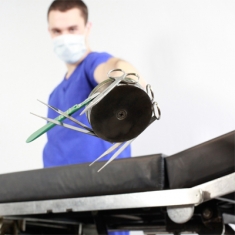 OR personnel can invest significant time searching for lost instruments. Missing instruments must be found to make the inventory count accurate and for the procedure to be considered complete. This prolonged time requires the patient to be under anesthesia for longer than expected, ultimately risking the patient's safety.
Not only will this product reduce searching time, it can also reduce the costs your facility will spend on replacement tools (which can be very expensive). The OR attractor magnet is an essential addition to your operating room's equipment. If you have any questions or comments regarding this product, please let us know below.