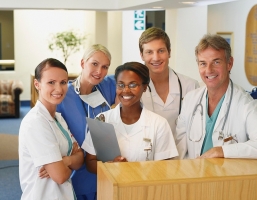 It's that time of year again, the first full week of May means it's
North American Occupational Safety and Health Week!  
May 5th – May 11th is dedicated to bringing awareness about the importance of preventing injury and illness in the workplace.
From our past blog posts, you may have noticed that we're big on safety equipment and safety procedures. In the medical field, work accidents can happen easily. With the right safety equipment and guidelines your facility can reduce the chance of accidents in your medical workplace. This post will highlight the importance of work safety and a few products that are helpful for best safety practices.
In the medical field, work safety is essential. In order for medical personnel to perform their duties safely, there must be safety procedures and guidelines in place. It's also important to use high-quality safety equipment to keep medical staff fully protected.
In applications that require the use of radiation, full protection is typically required. Products such as lead aprons, lead glasses, lead masks, patient shields, thyroid shields, lead apron racks, lead gloves, scatter drapes, etc. can protect against radiation. Our Fit Over Lead Glasses are common and are designed for those looking for eye protection to fit over existing eyewear. Harmful radiation can cause serious injuries, so it's important to use protective equipment when applicable.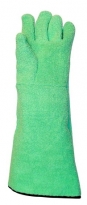 Laboratory applications require a variety of lab safety items including gloves, disposal boxes, eyewash stations, medical safety glasses, biohazard bags, etc. The
High-Temperature Gloves
are necessary when handling hot objects from an autoclave or oven. These soft, pliant, terry cloth gloves provide excellent heat protection up to 450°F.
A few MRI safety products include fire extinguishers, metal detector, test magnets and warning floor mats and signs. The Clean Agent Non-Magnetic Fire Extinguisher contains DuPont FE-36, an extinguishing agent that is clean, electrically non-conductive, environmentally friendly, extremely low in toxicity and exceptionally effective.
Is your medical facility celebrating North American Occupational Safety and Health Week? Remember, a safe medical workplace is an effective medical workplace. If you have any questions or comments, let us know in the comment box below!