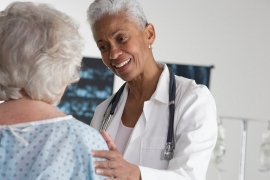 It's important for hospitals, medical facilities and clinics to ensure patient protection while keeping up with the ever-changing medical industry. Using disposable or sterile products for patient care can eliminate the possibility of infection. A few products come to mind when the topic of
patient protection
comes up and we've created this post to highlight a few.
The disposable exam covers are essential for protection against cross-contamination while maintaining your patient's modesty. The disposable modesty smock has an elastic top that keeps the smock comfortable and secure during patient exams. This disposable smock provides protection against cross contamination while eliminating expensive laundry and replacement costs. The classic Disposable Exam Gown is a common item found in almost every hospital or medical facility. This blue gown is often a requirement for patients to wear during their stay, protecting patients against cross-contamination and is designed with comfortable, non-irritating, non-woven materials.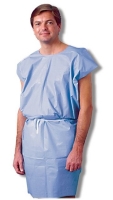 The single-use thermometers are also items that can be used for patient protection. The NexTemp ultra single-use clinical oral thermometers are individually wrapped and features extended signal retention time for excellent readability. These particular thermometers are easy and safe to use. The
NexTemp Reusable Personal Clinical Thermometer in Wallet Size Carrier
is convenient as it does not require special storage conditions, batteries, covers or recalibration processes. These thermometers are safe as they replace dangerous glass/mercury, digital electronic and tympanic thermometers.
Patient protection is an important safety measure to adhere to. There are many products that can help keep patients safe from infection and disease. If you have any comments or questions regarding patient protection, please leave a comment in the box below!